Jewelry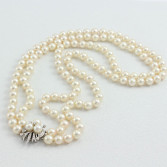 Double strand of cultured pearls measuring approximately 23 inches long including lovely 14K whit..
$1,350.00
Model Number:
Pearls-7mm-Double-WG Clasp
Jewelry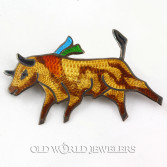 Mexican sterling silver enamel bull pin, most likely made in the 1970s. The body of the bul..
$75.00
Model Number:
Pin-Mexican-Sterling-Silver-Enamel-Bull
Jewelry
Platinum diamond band containing 10 princess cut diamonds. The diamonds are channel set in 2 rows..
$1,500.00
Model Number:
Ring-Platinum-1.50cttw-Princess-Cut
Showing 1 to 8 of 8 (1 Pages)